Riplinger
Last update: 08/29/2023
TransAlta Corporation is proposing to build the Riplinger Wind Power Project, a roughly 300 megawatt (MW) wind farm in Cardston County, near the Village of Hill Spring.
TransAlta first began assessing the potential development of this wind farm in 2020. Since then, we've completed a number of studies to determine what the Project could look like and identify any possible environmental impact. While the Project is advanced in its design, we are still considering different options, such as technologies and ways to develop the Project.
| | |
| --- | --- |
| Generating Capacity | 300 MW |
| Number of Turbines | 47 |
| Turbine Height (base to tip) | Just over 195 metres |
*This information is based on preliminary design and is subject to change at the sole discretion of the project developers*
TransAlta Corporation ("TransAlta") is advancing planning and engagement phases for the Riplinger Wind Project. Feedback continues to be received and is being considered as TransAlta continues to develop the project.  
Information on the Recent AUC Announcement
A recent Government of Alberta decision has led to a pause on the approval of renewable energy projects by the Alberta Utilities Commission. The pause will be in effect until February 29, 2024, with the terms of the review still being defined. TransAlta will continue to work through the development process and completing steps to submit a facility application during this period.
TransAlta anticipates an in-service date of 2027. With the pause, as well as the ongoing work being undertaken with the Alberta Electric System Operator, TransAlta is reviewing potential timelines and will share them with you once they are known.
For those who have questions, please reach out to our team at:
Riplinger Wind Power Project
1(877) 547-3365 or through the Project email address Canadian_projects@transalta.com
Riplinger Wind Transmission Line Project
1(888) 893-4980 or through the Project email address Riplingertransmission@maskwaenv.com.
Updated Project Timeline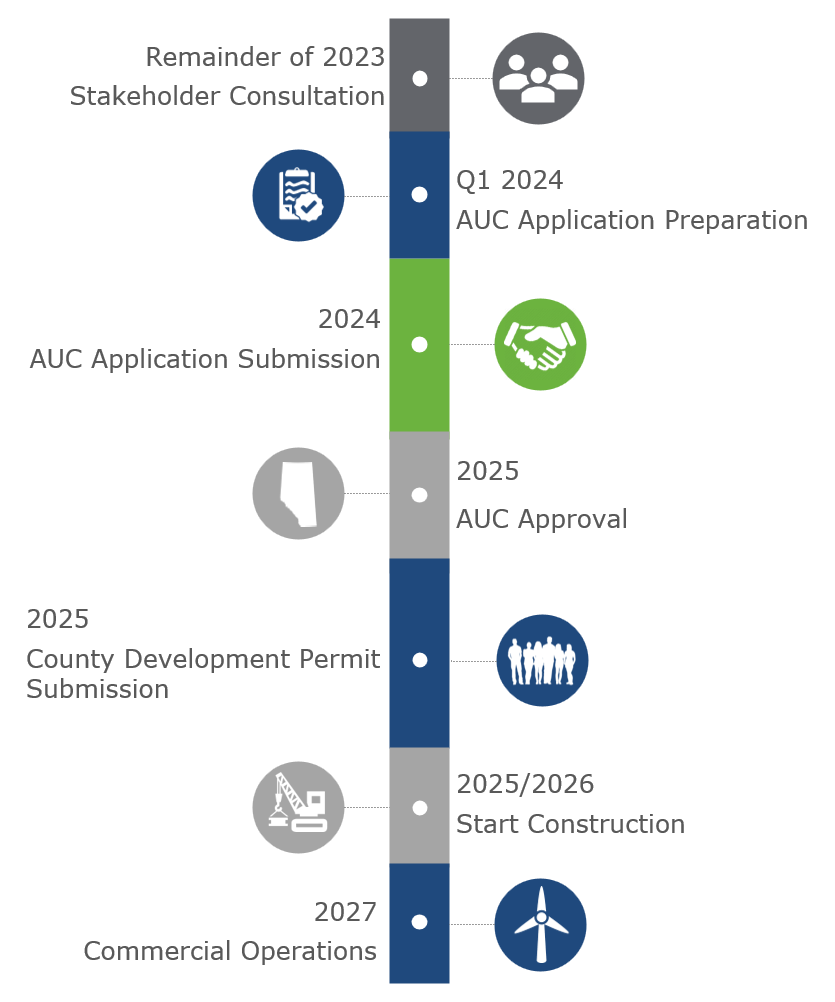 Timeline subject to change
What does the Project involve?

Although there could still be some changes, our plans for the Project include:

47 turbines. Each turbine could generate 6.6 MW of power and would have a tip height of just over 195 metres. Tip height is the distance from the ground to the furthest height the tip of windmill blade goes. We are still looking at different types of turbines and the locations of the turbines, so it's possible this number could change.
One or two permanent meteorological towers. We use these to gather information on the weather that we use to understand how the turbines are performing
An underground collector system to bring the power generated by the turbines to a central substation. Only one portion of the collector system will be above ground, where we have to cross the Belly River.
The substation will be located close to the centre of the wind farm. Substations are used to convert the voltage of electricity coming from a wind farm to a level that is suitable for transmission.
A transmission line that is roughly 45 km long to connect the Project to the existing transmission lines east of Pincher Creek. The transmission line is a separate project from the wind farm. This is because of the way electricity generation and transmission projects are regulated in Alberta. Our consultant (Maskwa) has started environmental studies and will be talking to communities about the transmission line starting in the next few weeks.
We plan to use existing roads and access points as much as possible. Where it's necessary, we'll seek approval to use and upgrade County roads. If any new roads need to be constructed, they will be designed to minimize environmental effects and support continued agricultural activities.

Public Consultation

The Riplinger Wind Power Project is committed to open and transparent development with local stakeholders. Since December 2022, we have been in the process of consulting and notifying all stakeholders within 1.5 km of the project boundary. The Project team has held two Stakeholder Engagement sessions in Hill Spring in February and June 2023. TransAlta has also notified and is consulting with government officials and industry and will continue to actively engage throughout the course of the project.

A summary of all stakeholder consultations will be compiled and submitted as part of our application to the AUC.

Community Benefits

Wind projects provide social and economic benefits to the local communities where they are hosted.

The Riplinger Wind Power Project will:

Create new employment opportunities, during construction, for local tradespeople, contractors, and skilled laborers
Create long-term employment, including permanent positions, for site technicians and maintenance personnel over the operating life of the wind project
Increase purchases of goods and services which will directly impact local businesses
Generate an additional source of tax revenue for Cardston County

Provide supplemental income from annual lease payments to project landowners during the life of the wind project

What Environmental Surveys have been Completed?

Our consultant (Ausenco) has done environmental surveys to gather information that will be used to assess the possible environmental effects of the Project.  These include studies on:

Habitat, landcover and wetlands

Animal and bird spring and fall migration
Breeding birds
Raptor nests
Spring and fall acoustic bats
Sharp-tailed grouse

These surveys were done at different times of the year to gather information about different species and life cycles. We followed guidance from AEPA's Wildlife Directive to determine what studies we needed to do and how to do them. Our study teams included qualified professional biologists, scientists and technicians.

What do we do with the environmental survey information?

The results of the environmental surveys were provided to AEPA as part of our Renewable Energy Project Submission report under the Wildlife Directive. AEPA is looking at this information and will identify the possible environmental risks associated with the Project. When they are done their assessment, they will rate the Project's unmitigated environmental risk as either low, moderate or high. TransAlta will include the AEPA's rating in our Project application to the Alberta Utilities Commission (AUC).

Permitting and Approval Requirements

Wind projects require multiple permits and approvals from all three levels of government, agencies, regulatory bodies, and other stakeholders, throughout the project lifecycle.

The permits and approvals required for the Project include:

Federal

Transport Canada
Aeronautical Obstruction Clearance
NavCanada
Land Use and Air Navigation Services Assessment

Provincial

Alberta Environment and Parks
Wildlife Referral Report
Alberta Culture and Status of Women
Historical Resources Act Clearance
Alberta Utilities Commission
Permit and License to construct, own and operate the wind project and substation
Connection Order – to connect the facility collector system to the collector substation
Alberta Transportation
Roadside Development Permit Municipal
Cardston County
Development Permit
Road Use Agreement
Utility Placement Permit
Right-of-Way Consent (if necessary)
Aboriginal Consultation Office – Indigenous Consultations in Alberta

Other

Utility Facility Owners
Crossing Agreement or Right-of-Way Easements
RCMP/TV/Satellite/ Telecommunications
Radio comms / radar interference

Decommissioning and Reclamation

A wind farm usually lasts between 30 and 35 years. When the Project is at the end of its life, TransAlta will either repower (replace the turbines with new technology) or decommission the wind farm and reclaim the site. We are required to submit a conservation and reclamation plan for the Project as part of our application to the AUC. This includes a commitment to return the land to its equivalent state.

Did you know TransAlta is the first company in Canada to fully decommission a wind farm?

The Cowley Ridge wind farm in the Pincher Creek area was the first wind farm developed in Canada and was safely decommissioned by TransAlta in 2022.

Did you know wind turbines are 85 to 95 per cent recyclable?

Wind turbine blades can be recycled by cutting them up into small pieces and then shredding them. The shredded material can then be used in making cement or even thick plastics. Fibreglass can also be recovered and repurposed. Most of what remains (steel, iron, aluminum, copper, and electronic components), is also completely recyclable through existing programs.

Riplinger Wind LP Transmission Line Project

TransAlta Corporation is proposing to build a 240 kilovolt (kV) transmission line from the proposed TransAlta Riplinger Wind Power Project to a connection point located in the Municipal District of Pincher Creek. The transmission line will be about 45 km long and become part of the Alberta Integrated Electrical System (AIES).

The proposed transmission line will connect the proposed Riplinger 1086S substation which is part of TransAlta's Riplinger Wind Power Project northwest of Cardston to the existing 240kV transmission line (956L) in the Municipal District of Pincher Creek. The Project will be located on private land. This project is required to connect the TransAlta Riplinger Wind Power Project to the AIES.

Preliminary route options are being presented to collect feedback from landowners in proximity to the proposed lines to better understand the landscape prior to the determination of a preferred route location to be presented later in 2023.

Fact & Figures
The Project will include
Location: Municipal District of Pincher Creek
Capacity: 240kV
In service date: Q3 2025
Builder: Yes
· Overhead transmission lines
· Transmission structures
· Telecommunication wires
· Permanent easements
· Temporary workspace
· Access roads
· Laydown areas

| | |
| --- | --- |
| Length of line | Approximately 45km |
| Transmission capacity | 240 kilovolts |
| Tower height | 18.6 – 32.3 meters |

Project Timeline

Route Selection Process

Preliminary route options have been developed to collect feedback from landowners in proximity to the proposed lines. The determination of a preferred route location will be presented later in 2023.

Siting a transmission line considers many potential impacts when identifying a route. Lines are chosen based on the lowest perceived impacts. To determine the route with the lowest overall perceived impacts we consider several factors.

These include:

agricultural impacts
residential impacts
environmental impacts
technical requirements
cost
other site-specific features

While the intent is to avoid impacts, when this is not possible, mitigations are considered to reduce or minimize potential impacts posed by routes as much as reasonably possible. One of the key considerations is the information and feedback provided by stakeholders throughout the project planning phase.

Once preferred and alternate route(s) are selected, they will be presented to the public for further comment. Following review, this feedback will be considered and presented to the AUC in a Facility Application for their review and approval. 

What will the Project look like?

Final structure types have not been determined and will be shared once finalized. Structure placement will be based on engineering constraints and information gathered from on-going engagement with stakeholders.

The project will primarily consist of "H-Frame" structures. Most of the structures will be spaced approximately 200m (656 ft) apart. Other structures will be required at highway crossings, river or creek crossings, corners and other points along the route.

Public Consultation

The Riplinger Transmission line project is committed to open and transparent communication with local stakeholders. Maskwa Environmental Consulting Ltd. On behalf of TransAlta has notified landowners in proximity to the proposed transmission line segments and will be talking to stakeholders about the transmission line over the coming months.

A summary of all stakeholder consultations will be compiled and submitted as part of our application to the AUC.

Contact Us:

If you have any questions, or concerns or would like more information about the Project, please contact us at:

Toll free number: 1-888-893-4980
Email: riplingertransmission@maskwasenv.com

Learn more about the AUC's regulatory process on their website.
https://www.auc.ab.ca/
Contact Us:
If you have any questions or concerns, or want more information about the Project, please contact us at:
Toll-free number: 1 (877) 547-3365, extension 1
Email: canadian_projects@transalta.com
Please reference the Riplinger Wind Power Project in the subject line of your email.
The Project will have a nominal capacity of 300 MW.
Renewable Energy Project Submission Report has been issued to the EPA.
Another in-person stakeholder consultation event will be forthcoming over the next few months, details will be posted on this website and mailed out to stakeholders.
Learn more about the AUC's regulatory process on their website.
Reference documents