TransAlta. We bring the energy.
Do you want to be a part of something big, something that will make a real difference in the world? TransAlta is a leader in the clean energy transition. Our employees contribute to a diverse, open, and transparent culture with clear accountabilities, strong leadership, and challenging opportunities for personal career growth.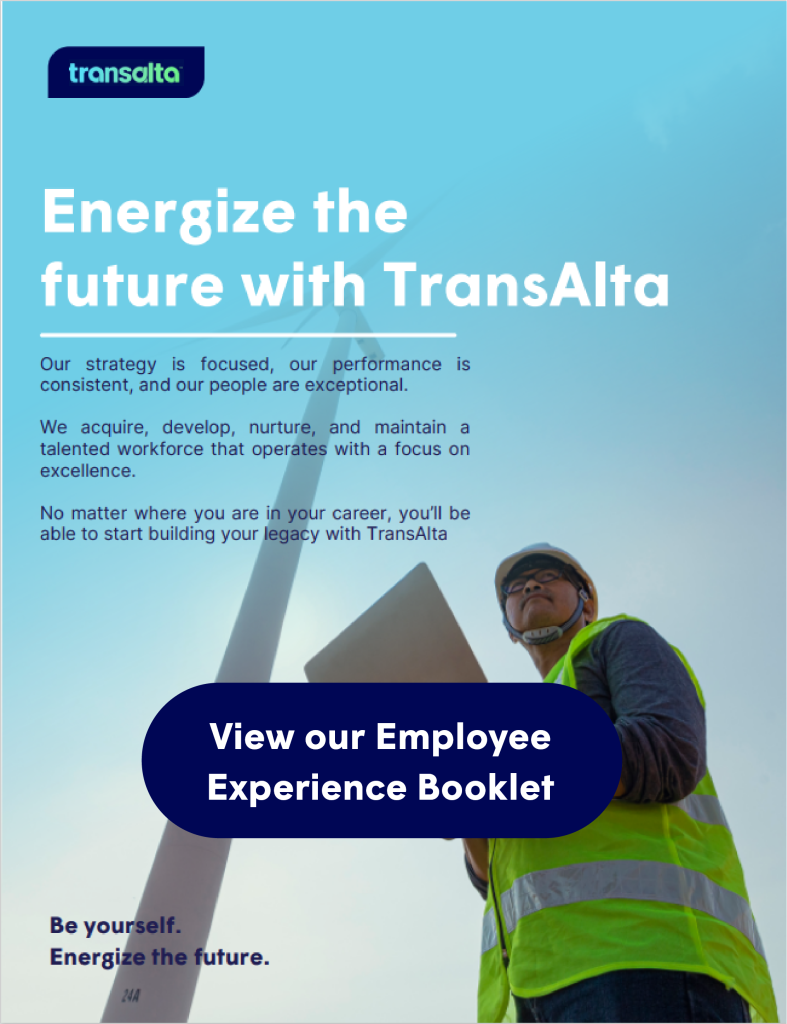 Work with Us
From field technicians and engineers to analysts and engagement specialists, our people are passionate about delivering safe, reliable, clean energy. TransAlta is made up of learners who thrive on solving problems and delivering results that lead to a clean energy future.
If this sounds like you, apply now to join our team and find out why so many top industry professionals choose to work at TransAlta.
Our story
For more than 110 years, TransAlta has supplied the electrical power needed to make progress and innovation possible in Alberta and beyond.
Today, we own, operate, and develop a diverse fleet of electrical power generation assets in Canada, the United States, and Australia. TransAlta is one of Canada's largest producers of wind power and Alberta's largest producer of hydroelectric power.
We are a responsible operator and a proud community member where our employees work and live. TransAlta aligns its corporate goals with the UN Sustainable Development Goals and is recognized as an industry leader on climate change management.
Our People
It is our collective mission to ensure that every single employee feels a sense of inclusion and belonging and can show up to work as their true authentic self.
TransAlta is committed to hiring a diverse workforce including women, Indigenous Peoples, persons with disabilities, members of visible minorities, and members of the LGBTQ2+ community. We believe that diversity enhances the quality of our performance, is an essential element to effective corporate governance, and cultivates a strong workplace culture.
Contact us today
We're here to answer your questions.