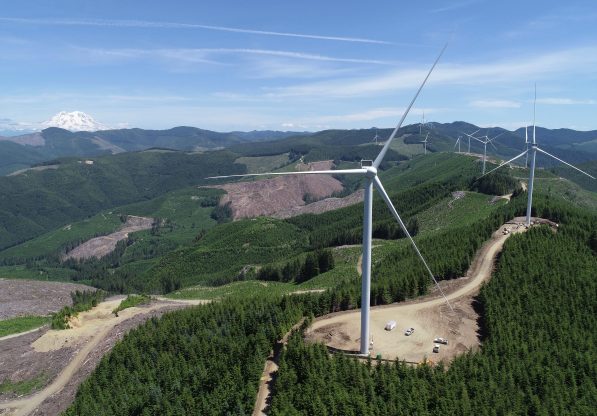 Skookumchuck Wind Project
The 136.8 MW Skookumchuck Wind Project is located on approximately 19,500 acres of land across Thurston and Lewis counties in the state of Washington, U.S.
Construction of the Project began in May of 2019, and the project reached commercial operations on November 7, 2020. The Project consists of 38 Vestas V-136 3.6 MW turbines.
Power produced by the Skookumchuck Wind Project is sold under a long-term Power Purchase Agreement to a single offtaker.
At a Glance
Location: Thurston and Lewis County, Washington, U.S.
Technology: 38 x Vestas wind turbines – 82 m hub height with a 136 m rotor diameter
Related Facilities – U.S. Wind Farms
| Facility Name | Location | Fuel | MW | Ownership | Revenue | Operator | On-stream |
| --- | --- | --- | --- | --- | --- | --- | --- |
| Skookumchuck | Lewis and Thurston County, WA | Wind | 136.8 | 49% | LTC | No | November 2020 |
| Antrim | Antrim, NH | Wind | 28.8 | 100% | LTC | Yes | December 2019 |
| Big Level | Westfield, PA | Wind | 90 | 100% | LTC | Yes | December 2019 |
| Wyoming | Evanston, WY | Wind | 140 | 100% | LTC | No | 2003 |
| Lakeswind | Rollag, MN | Wind | 50 | 100% | LTC | Yes | 2014 |