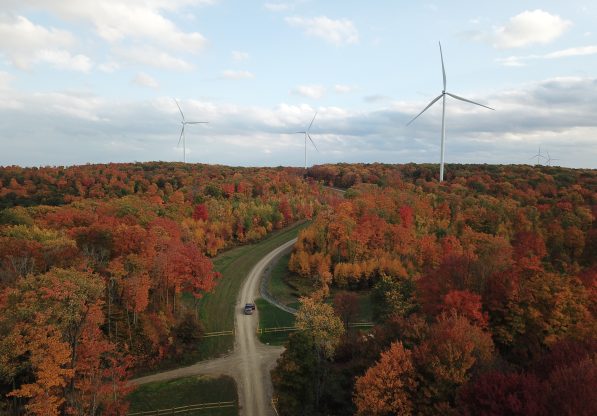 Big Level
The Big Level Wind Project is located on approximately 6,900 acres of privately owned land in Hector Township, near the Town of Westfield, Pennsylvania. The Project was acquired by TransAlta in February 2018 with construction beginning in February 2018.
The Project reached Commercial Operations on December 19, 2019.
The Project has a nameplate capacity of 90 MW and will consist of 25 x GE 3.6-137 turbines.
At a Glance
Location: Hector Township, 7 miles west of Westfield, PA
Technology: 25 wind turbines – utilizing a mix of 131-metre and 110-metre towers
Project Updates
Related Facilities – U.S. Wind Farms
| Facility Name | Location | Fuel | MW | Ownership | Revenue | Operator | On-stream |
| --- | --- | --- | --- | --- | --- | --- | --- |
| Skookumchuck | Lewis and Thurston County, WA | Wind | 136.8 | 49% | LTC | No | November 2020 |
| Antrim | Antrim, NH | Wind | 28.8 | 100% | LTC | Yes | December 2019 |
| Big Level | Westfield, PA | Wind | 90 | 100% | LTC | Yes | December 2019 |
| Wyoming | Evanston, WY | Wind | 140 | 100% | LTC | No | 2003 |
| Lakeswind | Rollag, MN | Wind | 50 | 100% | LTC | Yes | 2014 |