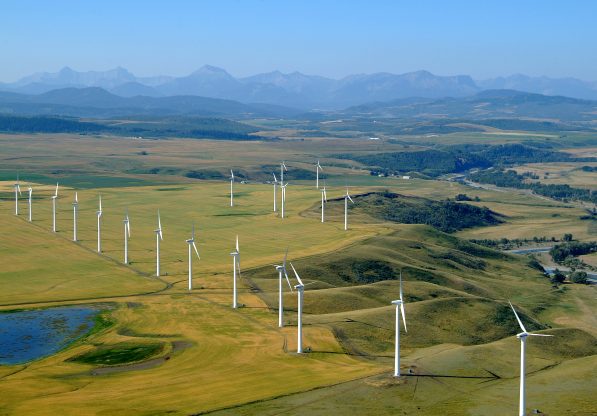 Summerview
The Summerview wind facility began with the commissioning of one of the largest wind turbines in Western Canada at that time. It produced 1.8 megawatts of power and was commissioned in January of 2002.
The first phase of this project was completed in 2004. The second phase came online in 2010 and brought the wind facility to a total of 136.2 megawatts built over 6,000 acres.
The Summerview wind facility (phase one) currently includes 38 wind turbines for a total of 68 megawatts of installed capacity, and produces more than 209,000 megawatt hours annually – enough energy to reduce carbon dioxide emissions by 146,250 tonnes per year.
The second phase of the wind facility added 22 three-megawatt turbines atop 80 metre towers for an additional 66 megawatts.
The facility is located in the northeast portion of the municipal district of Pincher Creek, just north of the Oldman River and adjacent to the west boundary of the Peigan Reserve, in Alberta.
At a Glance
Location: Northeast of Pincher Creek, AB – approx. 8 kms north of Hwy. 3 and 8 kms east of the Oldman River Dam.
Technology: Vestas V80 turbine (1800 kW, 65 m tower)
Turbine Dimensions
The 65 m tower is made up of rolled steel and comes in three pieces. The entire tower weighs 132,000 kg
Each blade is 40 m long; the rotor is 35,000 kg and is made up of three blades
The nacelle containing the generator and gearbox is about the size of a small motor home and weighs 63,000 kg
The foundation is 9 to 10 m deep and 4 m across. 102 tension type bolts run the full length of the foundation
Note: TransAlta gratefully acknowledges Natural Resources Canada (NRCan) for its support for this project through the Wind Power Production Incentive (WPPI) program.