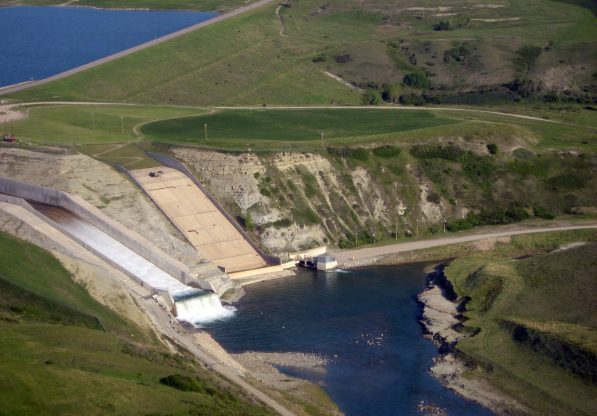 St. Mary
The St. Mary facility is located at the base of the St. Mary Dam near Magrath in southern Alberta. It uses water flowing from the low level riparian outlet located within the original diversion tunnel that flows into the St. Mary River. Water is withdrawn from the bottom of the reservoir and discharged into the diversion tunnel through a flow-regulating valve. The hydro facility takes all, or a portion, of this flow through a penstock (gate) installed inside the tunnel.
The facility can produce about 16,250 megawatt hours each year.
TransAlta owns and operates the St. Mary facility through its wholly owned subsidiary Canadian Hydro Developers.
At a Glance
Technology: Horizontal Francis turbines, Kato generator
Constructed on Alberta Environment's irrigation system, the facility consists of an intake in the diversion tunnel valve room, a 1.5 metre diameter steel pipe penstock, powerhouse and 25 kilovolt power line.
Environmental Highlights
Protection of the environment is an important part of our hydro power business, as is responsible water use. We continually work with environmental and community groups to ensure habitats are protected, and that all users' needs are heard.
The St. Mary hydro facility is EcoLogoM certified by the Environmental Choice Program.
Related Pages