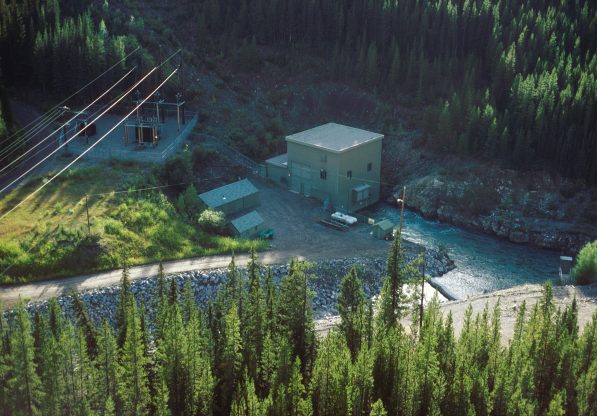 Pocaterra
Pocaterra is one of TransAlta's four hydro plants on the Kananaskis System, which is part of the Bow River Electric System in Alberta. The plant generates an average of 29,000 megawatt hours each year.
The Pocaterra Plant was named after surveyor George Pocaterra, a pioneer rancher from Italy. Pocaterra was one of the first to prospect for coal in the Kananaskis area. He was also known as the constant companion and blood brother of Spotted Wolf, a member of the Stoneys.
TransAlta's hydroelectric plants primarily provide electricity during periods of peak electrical demand and ensure system stability. Their operating flexibility means they can start quickly to introduce hydro power within minutes, balancing out shortages due to unexpected outages, or providing power at times of high demand.
Environmental Highlights
Protection of the environment is an important part of our hydro power business, as is responsible water use. We continually work with environmental and community groups to ensure habitats are protected, and that all users' needs are heard.
We are also working to enhance the environmental component of our Environment, Health & Safety Management System to meet ISO 14001 standards (ISO 14001 is an international standard setting the framework for a holistic and strategic approach to environmental policy, plans and actions).
Pocaterra Penstock Replacement
The Pocaterra Hydro Facility (Pocaterra), located in Peter Lougheed Provincial Park, is one of TransAlta's three hydro plants on the Kananaskis River. Pocaterra generates power by diverting water from the Lower Kananaskis Lake to turn a turbine. The water is all returned to the Kananaskis River downstream of the facility. The pipe that diverts the water, also known as a penstock, required upgrading. Constructed in 1955, the penstock had reached the end of its normal life span and was leaking at numerous locations along its 1.37 km stretch. After a detailed analysis, TransAlta decided to replace the wood stave penstock with a new steel one which would improve the efficient use of water.
New penstock now in operation
Completed on schedule in early November, the new penstock is now buried (the old one was above-ground). Burying the penstock reduces the visual impacts at the site. The new penstock was put into operation on November 15, 2012 at which time the Pocaterra hydro plant resumed operations. Reclamation work, including grass planting, and final inspections will be done in spring 2013.
Our ongoing commitment
TransAlta is committed to being a good neighbour and building long-term relationships with the community. Through a comprehensive public consultation process, TransAlta provided several opportunities for area residents, businesses and First Nations to learn more about the penstock replacement and provide feedback.
Further information
For further information on the Pocaterra penstock replacement contact us at
1-877-5-GREEN-5 (1-877-547-3365) ext. 1
or
Pocaterra@transalta.com