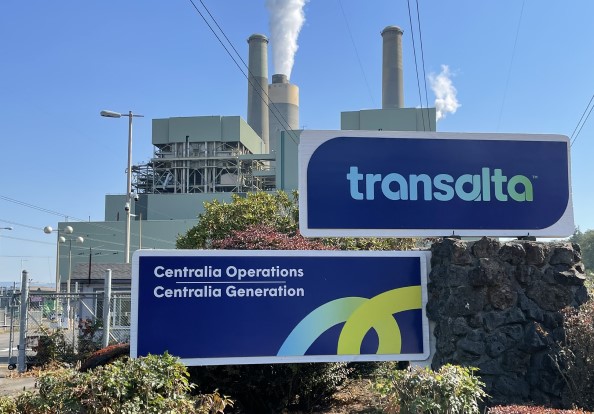 Centralia
In 2020, we retired Unit 1 of our Centralia facility, decreasing the facility's capacity to 670 MW. Throughout its lifetime, Unit 1 provided a total net generation of just over 176,660,518 MW with an average availability of 85.66 per cent. Unit 2 of the facility is set to retire at the end of 2025, as part of TransAlta's transition to a 100 per cent clean electricity future.
The reliable and steady supply of power from the Centralia Coal Plant is essential for keeping the west-coast electrical grid stable. The facility is a merchant plant, which means that costs such as environmental upgrades cannot be passed on to customers. TransAlta has invested more than US$300 million in pollution control technology at Centralia Plant, including scrubbers and low nitrogen dioxide burners. Today, the facility is one of the cleanest coal-fired power plants in North America.
Fuel for Centralia Plant is delivered by train from the Powder River Basin in the U.S. Midwest. The plant's coal unloading facility is considered one of the most efficient and environmentally friendly in North America.
In preparation for the retirement of Unit 1 in 2020, and the upcoming retirement of Unit 2 in 2025, TransAlta has invested $55 million USD to support energy efficiency, economic and community development and education and retraining initiatives in Washington State, $20 million USD of which is dedicated to the Economic and Community Development Board, which will fund education, retraining, economic development and community enhancement for those impacted by the units' retirement.
Coal Combustion Residuals (CCR) Rule Compliance Data and Information
TransAlta is committed to providing information to the community about our facilities. The information below is intended to satisfy the requirement under the CCR Rule 40 CFR 257.107 to maintain a publicly accessible internet site (CCR site) containing the required information. The required information will be posted when it is accomplished and is available.
Location Restrictions
Operating Criteria
Annual fugitive dust control report
Annual engineering inspection reports
Groundwater Monitoring and Corrective Action
Closure and Post-Closure Care