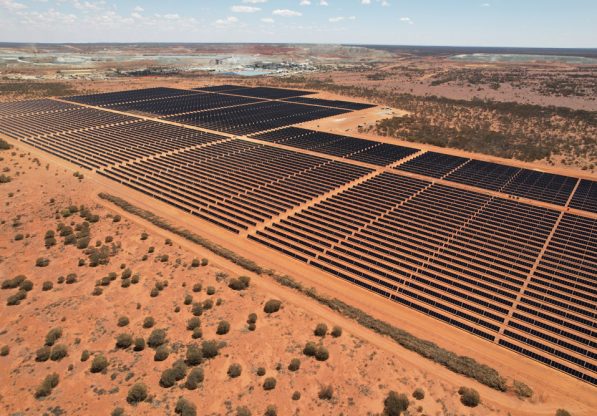 Northern Goldfields
This landmark project, commissioned by BHP Nickel West in 2021, heralds a new era of renewable energy generation for TransAlta's Australian operations and represents BHP's first large-scale onsite solar farm and battery solution at any of its global operations. TransAlta has had a long-standing partnership with BHP Nickel West, dating back to the 1990s. This project affords TransAlta the opportunity to support BHP in meeting its carbon emission targets and further deepens our relationship. In addition to this project, a new agreement has been reached to identify potential sites for a wind farm that will connect to TransAlta's existing grid and service BHP Nickel West's Northern Goldfields operations.
To help BHP Nickel West achieve its decarbonization objectives, TransAlta delivered a leading-edge renewable power solution that integrates solar photovoltaic and battery energy storage systems (BESS) into its existing off-grid network. The project fostered a unique, trusted and collaborative approach to project development between TransAlta and BHP, leveraging BHP Nickel West's existing project approvals, which enabled TransAlta to expedite the project's delivery, mitigate risks and reduce capital and operating expenses.
This project sets a groundbreaking record as TransAlta's first hybrid customized onsite electricity generation for a client. The hybrid solar-battery solution for BHP Nickel West comprises a 27.4 MW solar farm at its Mt Keith operation, and a 10.7 MW solar farm with a 10.1 MW battery storage system at its Leinster operation, displacing power currently supplied by diesel and gas turbine generation. This project showcases TransAlta's ability to work in close collaboration with its customers and key stakeholders to develop and integrate renewable energy solutions reliably and affordably into remote and off-grid networks and uniquely positions us to support customers' sustainability goals.