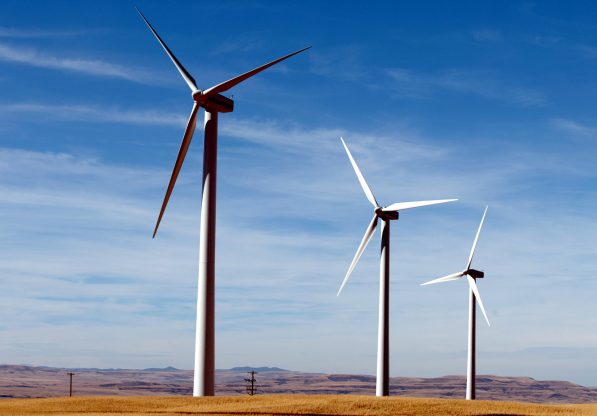 McBride Lake
McBride Lake wind facility is a joint venture between ENMAX, through its wholly-owned subsidiary ENMAX Generation Portfolio Inc., and TransAlta. ENMAX and TransAlta are equal partners in the wind facility, located eight kilometres south of Fort Macleod at McBride Lake. TransAlta operates the facility and ENMAX purchases the electrical output. In addition, the project is supported by the federal government's Wind Power Production Incentive (WPPI) program.
Construction on McBride Lake began in fall 2002 and was completed in summer 2003. The facility is made up of 114 Vestas, 660 kW wind turbines. This 75-megawatt facility produces 235,000 megawatt hours a year, enough to reduce carbon dioxide emissions by 164,500 tonnes annually.
At a Glance
Location: South of Fort Macleod, Alberta, adjacent to secondary Hwy. 810.
Technology: Vestas V47 turbines (660 kW), 50 m tower
Turbine Facts
The 50 m tower is made up of rolled steel and comes in two pieces, weighing 24,000 kg
Each blade is 23 m long; the rotor is 8,500 kg and is made up of three blades
The nacelle containing the generator and gearbox is about the size of a small motor home and weighs 20,000 kg
The foundation is 8.5 m deep and 5 m across. 102 tension type bolts run the full length of the foundation
The sound produced from wind turbines is only 45 decibels at a distance of 200 m
Note: TransAlta gratefully acknowledges Natural Resources Canada (NRCan) for its support for this project through the Wind Power Production Incentive (WPPI) program.