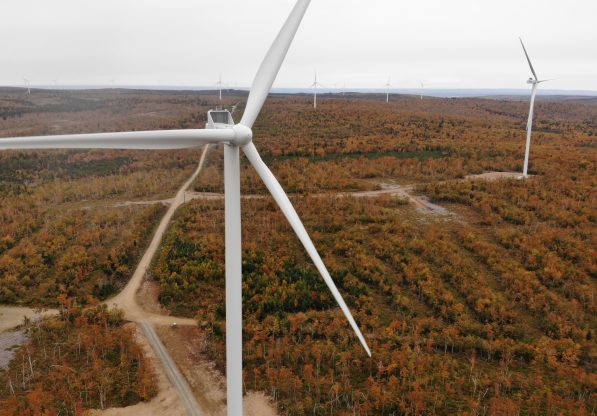 Kent Hills
TransAlta, in cooperation with local development partner Natural Forces Technologies Inc., developed the first wind facility in New Brunswick. The project is located on Crown land in the Kent Hills area, and was completed in three phases. Construction of the first phase began in the spring of 2008 and was completed December 31, 2008. The second phase began construction in spring 2010 and was completed in early December 2010. Construction of the third phase began in April 2018 and was completed in October 2018.
At a Glance
Total capacity: 167 MW
Location: 55km Southwest of Moncton, New Brunswick
Technology:

Phase I & II – 50 V90-3.0 MW Vestas turbines, each on 80 metre towers with 45 metre blade length.
Phase III – 5 V126-3.45 MW Vestas turbines, each on 117 metre towers with 63 metre blade length.
The facility represents the largest wind facility in New Brunswick and is expected to produce 580,000-megawatt hours annually.